From the unkempt orphan to the cat ambassador
It was a dark and stormy night … really. During a thunderstorm in Maryland in late September 2018, a 10 to 12 week old kitten popped up at a front door looking for a home. The family wasn't there, but their grandmother watched the house while they were away. She started feeding the little guy who was tiny and dirty and seemed deaf.
The friendly grandmother who looked after him then moved across the country and the family who lived in the house could not keep him. Then Laura Meadows volunteered to take in the kitten, which would eventually be named Pip. There was only one problem: she hadn't consulted her family.
"There were four options," says Emily Meadows, Laura's sister and now Pip's human. "Pip, who hadn't even been named at this point, could stay with Laura in North Ocean Pines, stay with our father in South Ocean Pines, go to my house in Ocean City, or be taken to the Humane Society."
The humane society was full; Laura's three other cats weren't too pleased with Pip's presence; The second option posed a problem in that Pip had a habit of tripping over people, making the house unsafe for Laura's 85-year-old grandfather. So it was Emily's house!
Pip new life
First, Pip had a veterinary examination. It turned out that he was not deaf – after his dirty ears were cleaned, his hearing improved. Warm compresses also helped cleanse his eyes.
From there it was a matter of getting the two house cats Natty and Mowgli used to a new little brother. This was an adjustment for everyone as it turned out that Pip had a mischievous lead and a lot of extra energy.
"If Natty and Mowgli were sound asleep, he'd wake them up quickly by jumping on their heads," says Emily. "When a window was open, Pip climbed onto the screen. If a cup of water was left unattended, it was soon knocked over. Whenever Pip woke up before us in the morning, he would jump on the bedside table and make sure we were up too. He didn't like using the litter box and instead went into our houseplants. It was Pip's world, we just lived in it. "
To burn off some of that energy and give the other cats a break, Emily put Natty's old harness on Pip to take him for a walk. It was the perfect solution. Pip loved the outdoors so much that they soon ventured to the beach, where he loved to dig, hide under lounge chairs and take a nap in the sun – he was right home.
"Then one day the tide was super low and the waves were only an inch or two high, so we let Pip explore the water. He felt his first wave and it didn't bother him at all, "says Emily. "Then we put him on a boogie board for the first time. He caught a small wave and stayed on the board! When the board reached the shore, he jumped off and just walked along the beach as if everything were normal. That's when we knew that Pip was a very special cat. "
Emily soon discovered that after his adventures, Pip stopped tearing open the house. Not only has he got used to living on a leash, but he's also good at driving cars and has even flown as far as Poland, where his human father (Emily's husband) is from.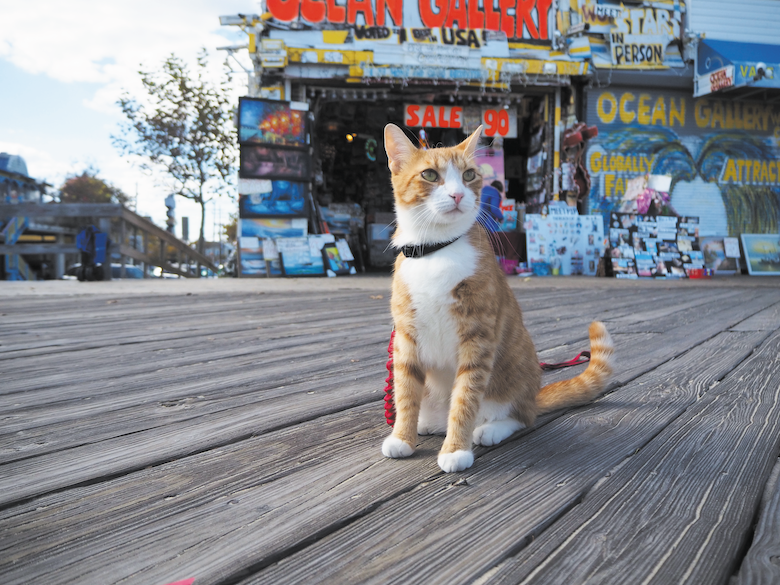 Everyone loves pip
Since nothing seems to upset him, Pip has proven to be a pretty feline ambassador. His antics have attracted a large following. Emily and her husband started caring for kittens, but Pip is also using his growing celebrity status to help people in need.
"Pre-COVID Pip spent three to five days a week visiting local nursing homes, schools, or places like EasterSeals or the Worcester County Developmental Center. If we had foster kittens who were well behaved, sometimes we'd bring them too. "
Pip also has plush toys that look just like him, and a different one will be donated for each sold. "One of Pip's biggest projects is the Little Pip project, where we can visit places like nursing homes or centers for people with disabilities and Pip can spend the day with them and everyone get a Pip plush!"
Pip's influence continues to grow and inspire. He has a number of books called Pip's Guide to…, an active social media presence, morning show, and a range of Pip-related merchandise on his website. Pip also stays in touch with his fans through the Pip Pen Pal Project.
Although COVID has stopped Pip's personal appearance, he continues to help people and cats on these other avenues alike. When the pandemic is over, Emily expects him to reboot his fans.
"In a pre / post-pandemic world, we were / will be going back to our meet and greet schedule with Pip going to the Ocean Gallery on the Ocean City Boardwalk every summer night," says Emily. "He has a little place he struts to, and kids of all ages come and ask him for a high five. He'll spend high fives for as long as he wants. "