Oh behave
Launched in 2007, Oh Behave is the longest-running pet podcast in the world, with over 400 episodes in the vault. "Then and now, the focus of the show is on educating the audience," says presenter Arden Moore. Guest vets and behaviorists mingle with celebrities, with highlights like a joke-filled session with actress Betty White and a segment with Garfield creator Jim Davis.
Visit → petliferadio.com/behave.html
The Community Cats Podcast
After Stacy LeBaron left the Merrimack River Feline Rescue Society in 2014, she started community cat programs. When she found there were over 400 groups on her waiting list, she started a cat advocacy podcast to "inspire people to put their passion for cats into action". One of Stacy's favorite episodes is about "Changing The Way We Think About Protecting Our Cats" with guest Dr. Michael Blackwell.
Visit → communitycatspodcast.com
Catexplorer Podcast
The Catexplorer Podcast is broadcast from Australia and takes the listener into the daring world of the adventure cats. Instructions on how to safely navigate the outdoors with kittens are paired with tips on getting your cat out for brunch. The show is moderated by the self-proclaimed "chief researchers" Hasara and Daniel Lay and also offers tips on how to best present your cat's excursions on social media.
Visit → catexplorer.co/podcast
The Purrrcast
The Purrrcast debuts in 2015 and is hosted by Sara Iyer and Steven Ray Morris. A key recurring segment is presenter comments on cat-related episodes from TV shows and movies, including Sabrina The Teenage Witch, Futurama, and Disney's The Aristocats.
Visit → genaurightmedia.com/the-purrrcast
Cattitude
Cattitude was one of the first Pet Life Radio podcasts launched in 2007. The host is Michelle Fern, who says the aim of the show is "to educate, educate and entertain the cat's parents." Michelle picks self-funded rescuer Sassee Walker as her most memorable guest: "Starting out in the rougher areas of Brooklyn – she's so dedicated to saving the lives of feral cats in her community."
Visit → petliferadio.com/cat.html
Nine lives with Dr. Cat
Dr. Kathryn Primm premiered in 2017 with the aim of giving listeners advice that they can "implement at home to keep their cats happy and healthy". The podcast also invited National Geographic writer Erika Engelhaupt to delve into the pressing question of whether your cat might be tempted to eat you when you die.
Visit → petliferadio.com/ninelives.html
Pet world
Steve Dale's Pet World, a seasoned feline behavior specialist, delves into a range of feline problems and provides expert advice on medical and scientific dilemmas. To keep the show updated, a number of episodes recently looked at the possibility of a successful COVID-19 vaccine for cats.
Visit → wgnradio.com/steve-dales-pet-world
Let's get fur-real
After successfully launching CatCon, Susan Michals noted that "there is a void in the way cats and dogs reflect our lives and cultures". So she started her own podcast with an extensive feline girth. "It's not about training, it's about impact [pets] have in every way the way we live now, "says Susan. "We've got everything covered, from animal comfort in times of crisis to cat poetry!"
Visit → Let'sgetfurreal.com
The pet show
You might associate Dennis Quaid with his roles in classic '80s films, but these days the actor has expanded his portfolio to include co-hosting The Pet Show with Jimmy Jellinek. The show is focused on pet culture and has brought together a number of celebrity guests including Tyler Henry, reality show rapper Big Boi, and activist Carole Baskin from the cult documentary of Tiger King.
Visit → audioup.com/shows/thepetshow19
Cats and counting
The cat behavior researcher Rita Reimers not only fulfills her duties as cat mother for 19 rescue operations, but also organizes a podcast dealing with the ups and downs of cat parenting. Actress Mayim Bialik shows an outstanding episode. "Hearing how passionate she is with cats and causes related to cat grooming has warmed my heart," says Rita. "Mayim is a real asset in improving our cats' lives."
Visit → petliferadio.com/19catsandcounting.html
PRO TIPS TO START YOUR OWN PET PODCAST
Do you want to start casting cats? James Jacobson, Founder of the Dog Podcast Network, Reveals Five Inside Secrets …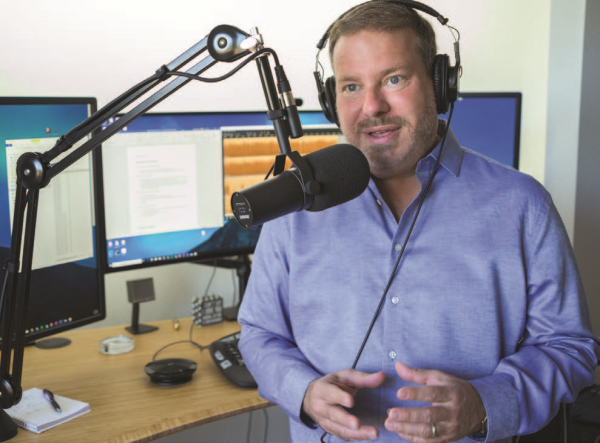 Record in the closet: The sound quality is really important. One trick that many professional voice over people use is recording in a closet – the fabric will absorb the sound!
Focus on: In my opinion, an episode shouldn't be a moment longer than it needs to be. Our Dog Edition episodes last 20 to 30 minutes.
Get feedback from friends: Ask a friend to record a video listening to the podcast so you can see their eyes and stop them to comment.
Let the cats in! When you speak to a pet audience, they will understand very well a dog bark or a cat walking over the microphone. That is part of the intimacy of the medium.
Stick to a schedule: Weekly episodes are optimal, but do not last longer than every other week.
Phillip Mlynar spends his days writing about cats, hip-hop, and food, often while being pestered by his rescue, a mackerel tabby named Mimosa. His work appears in Vice, Pitchfork, Red Bull, Bandcamp, VinePair and Catster. He has won various awards in the Cat Writers' Association communications competition.